Meet Our Stylists
We're a close group of industry professionals who love what we do. Our established experience, paired with our drive to improve our education and technique, lets us constantly improve what we do.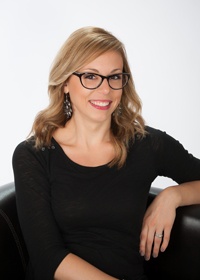 With a true passion and love for the beauty industry, Jess has over 15 years of experience and knowledge. Opening Cutting Edge Salon in 2010 has made her dream come true. Jess has continued to improve her techniques throughout the years including educational trips to the New York Matrix Academy and the Chicago Hair Convention, as well as several classes and training in Minneapolis and St. Cloud. Jess' expertise include cuts, colors, and airbrush tanning. She continues to improve and learn new techniques to keep up with the ever-changing trends.

Julie has need in the hair industry for over 17 years! As a busy wife and mother she still loves to make people look and feel good. Whether it is a day at the spa with a facial and manicure or pedicure, Or keeping your favorite color up. Julie is always happy to serve you. It is her love for people and all things hair and makeup that will shine during any service with Julie!
Stephanie has been studying hair theory for over 20 years. Her passion is creating the look you want and giving you the confidence to help you feel great. She believes you are never too old to learn new techniques and changing the old into something new. Stephanie strives in the ever-changing beauty industry and loves the new experiences every day. Cutting Edge has become an extension of her family, and a great group of friends. Stephanie has advanced training with Matrix, Paul Mitchell, and Sexy Hair.

Kelly has been a cosmetologist since 1996. She loves styling hair and is proud to turn her passion into more than just a job. It is important to Kelly that her clients leave looking and feeling their best. Kelly believes in continued education and looks forward to learning more with the stylists at Cutting Edge.

Sheila has been in the beauty industry since 2012 and loves making people look and feel amazing. She especially loves men's hair and hair color services. Sheila is interested in expanding her knowledge and is constantly adding more skin care techniques to her menu of services. With her cheerful, outgoing personality your time spent with Sheila will have you feeling refreshed and invigorated.